Summer by Summer
By: Heather Burch
Published: April 7, 2015 by Blink
Goodreads
|
Amazon
When Summer took a job as a nanny for a couple vacationing in Belize, she imagined it would be a fresh start before starting college in the fall. And while she adores her charge, Josh, she can't say the same for her employers' oldest son, Bray. He's cocky, inconsiderate, and makes her feel she's a chore he has to put up with. In short, he's everything she dislikes in a guy.
Bray had a plan for the summer: party, hang out with friends, and forget all the responsibilities waiting for him back home. But every time he's forced to be around Summer, her dour, serious mood sets him off. Not to mention she has a habit of picking up on what he already knows is wrong with him.
Then the two find themselves on a dive trip gone wrong, stranded on a remote island. As they focus on survival, their differences melt away, and they find being together may be what both needed all along.
My Thoughts
Summer by Summer
is a story about a girl named Summer Mathers, who takes a job as a nanny for a little boy named Josh on a trip to Belize with his family. There she meets the family's eldest son Bray, who is anything but charming. When a dive trip goes wrong, Bray and Summer find themselves utterly lost and stranded on an unknown island, far away from mainland Belize and their families. They must put aside their differences and work together to survive, before anything worse than being stranded on an island can happen.
When I first started reading
Summer by Summer
, I was given the impression that the story was going to be a little cliché. As I continued reading more and got to the part where the two main characters get stranded on an island and must work together to survive all odds, I was beginning to really like how the story was going. Summer and Bray's time on the island definitely showed me what their personalities are like, and I got to know more about their past and the kind of people they are, and have become. There were some moments where it was suspenseful, and a tiny bit romantic. When I finished reading, I was surprised at how Burch managed to tell the story in just 288 pages and was able to not make it sound rushed or have too much information dumping. I found this story quite inspiring for me and for those who have lost loved ones, or is a survivor. I think it brought out a good message about challenging faith and learning to trust. I was very much entertained and would definitely recommend this book to anyone who's interested in a good survival story. When I think about it, this book reminds me of The Blue Lagoon (especially the 2012 version):3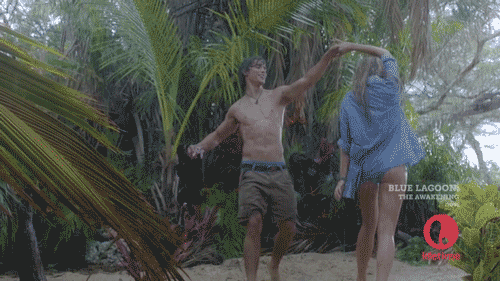 Overall, I thought that the novel had an equal amount of survival/romantic vibe to call it a great short summer read.
*I received this book for free from BookLook Bloggers in exchange for an honest review*