Stacking the Shelves, hosted by
Tynga's Reviews
, is about sharing the books you got from a store, online, library, or friend. From anywhere and in any format--just share what books you've got:)
Crazy Rich Asians
By Kevin Kwan
Crazy Rich Asians is the outrageously funny debut novel about three super-rich, pedigreed Chinese families and the gossip, backbiting, and scheming that occurs when the heir to one of the most massive fortunes in Asia brings home his ABC (American-born Chinese) girlfriend to the wedding of the season.
When Rachel Chu agrees to spend the summer in Singapore with her boyfriend, Nicholas Young, she envisions a humble family home, long drives to explore the island, and quality time with the man she might one day marry. What she doesn't know is that Nick's family home happens to look like a palace, that she'll ride in more private planes than cars, and that with one of Asia's most eligible bachelors on her arm, Rachel might as well have a target on her back. Initiated into a world of dynastic splendor beyond imagination, Rachel meets Astrid, the It Girl of Singapore society; Eddie, whose family practically lives in the pages of the Hong Kong socialite magazines; and Eleanor, Nick's formidable mother, a woman who has very strong feelings about who her son should--and should not--marry. Uproarious, addictive, and filled with jaw-dropping opulence, Crazy Rich Asians is an insider's look at the Asian JetSet; a perfect depiction of the clash between old money and new money; between Overseas Chinese and Mainland Chinese; and a fabulous novel about what it means to be young, in love, and gloriously, crazily rich.
The Dreamer
By E.J. Mellow
It's night. Always night. Dreams guard against the evil forged by nightmares. Infinite shooting stars illuminate a moonless sky. A city stands alone, surrounded by a darkened field. On its fringes, a man watches one star separate from the masses and fall. What survives the crash will unveil a secret centuries long hidden.
Molly hasn't slept well since the night of her twenty-fourth birthday. Being struck by lightning might have something to do with it, but then again, her chicken did look a little undercooked at dinner. Whatever the culprit, her life quickly catapults from mundane to insane as, night after night, Molly is transported through her once dreamless sleep to a mysterious land illuminated by shooting stars.
There she meets the captivating but frustrating Dev, and together they discover Molly possesses a power coveted by his people—the ability to conjure almost anything she desires into existence. Seduced by the possibilities of this gift, Molly shifts her attention from waking life toward the man, the magic, and the world found in her dreams.
But Molly must ask herself—does something truly exist if you only see it when you close your eyes?
Faced with the threat of losing everything—her job, best friend, boyfriend, and most importantly, that little thing called her sanity—Molly will learn just how far she'll go to uncover what is real and what is merely a figment of her imagination..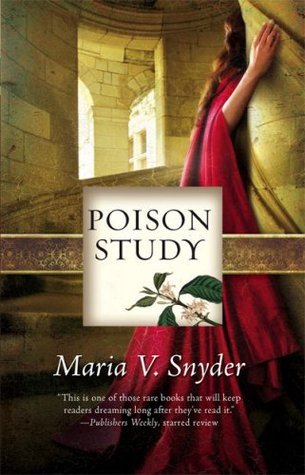 Poison Study
By Maria V. Snyder
Choose: A quick death…Or slow poison...
About to be executed for murder, Yelena is offered an extraordinary reprieve. She'll eat the best meals, have rooms in the palace—and risk assassination by anyone trying to kill the Commander of Ixia.
And so Yelena chooses to become a food taster. But the chief of security, leaving nothing to chance, deliberately feeds her Butterfly's Dust—and only by appearing for her daily antidote will she delay an agonizing death from the poison.
As Yelena tries to escape her new dilemma, disasters keep mounting. Rebels plot to seize Ixia and Yelena develops magical powers she can't control. Her life is threatened again and choices must be made. But this time the outcomes aren't so clear...
Let me know in the comments what you got:)